We need your recipes!
Hungry Hearts is rolling out its first ever community cookbook featuring favorite recipes from Hungry Hearts and some of your very own Lawton community members. Price is $15.00 each and will be available just in time for Mother's day and Father's Day!
To submit your favorite recipe, click here
To order your copy, click here: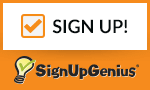 All recipe submissions and orders are due by April 10, 2020 at 3:00 p.m.